Bins and Boxes
We specialise in the design and production of plastic stackable bins for the food, dairy and related industries.
Click to enlarge photos.
Stackable bins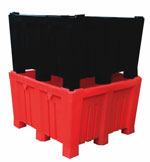 RTB4
These stackable bins are hygienic and ideal for storing food products. Easily stacked. They are available in various colours, sizes and heights.
Photo shows 2 stackable bins, each measuring 1100 x 1160 x 720.